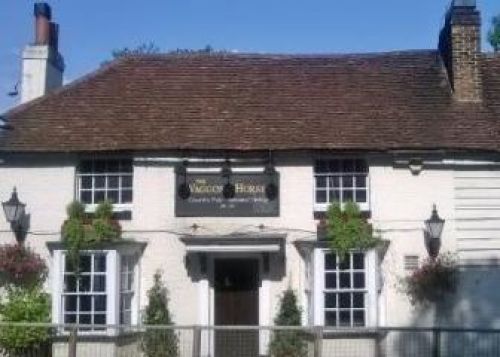 Meetings are held at:
The Wagon & Horses, Watling Street, Elstree, Herts, WD6 3AA
Thursdays:- 12-30 for 12-45 start.
President 2017-18 Sasha Capocci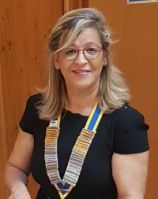 Sasha works tirelessly for the community, her whole life is dedicated to helping others.
She has carried out lots of fundraising for the local community, including organizing Afternoon Tea parties; Dinners; Xmas Concerts; wine tasting.
Sasha is heavily involved with:
The local branch of NSPCC

Wednesday 60+ club at 96

Monday Club 60+ at Organ Hall

Visually Impaired Club at Maxwell Hall

Dementia Club UK at Fairway Hall

Community Choir

Giving chances

Macular Degeneration ( fundraising )
Just to name few
In addition, she organizes Tea Parties each year for Macmillan and for Age Macular Degeneration.
Previously, she was one of the main cooks for Mencap on Tuesdays and for Gratitude on Wednesdays;
She is a keen and imaginative cake maker who donates her cakes to charities to raise money. She has baked cakes to every local charities.
When her son Michael was 5 years old, she launched a Visually Impaired Club in Barnet, "Barnet Look", which she ran for 20 years. Barnet Look helped children up to 18years old.
It was around 1997 that she had her first contact with Rotary, wanting to join The Mill Hill Club, but was turned down as NO WOMEN were allowed. However, that did not discourage her, it gave her more energy to do what she likes to do most and she later joined Elstree and Borehamwood Rotary Club
She is also a committee member of "Giving Chances". This charity is based in London and aims to reach as many schools as possible in the most remote and deprived areas of Morocco. The charity provides educational resources for the children in schools which are not provided by their government. They promote reading by creating libraries and providing books and an environment for learning
She has received three awards:
British Community Honours Award for outstanding service to the community presented at the House of Lords in 2014;

Hertsmere CIVIC AWARD in 2016

Community Award given by Elstree and Borehamwood Town Council in 2015
Sasha never gives up on anything, when she feels that she can make peoples lives better.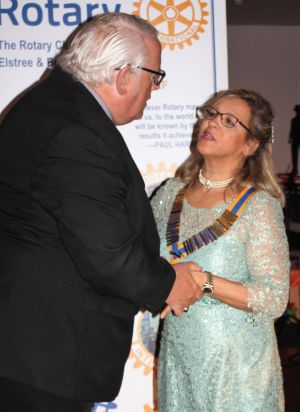 ---
Rotary Past President - Nick Male
The Club had a successful year under Nick Male's leadership, and here follows a few activities during his year of office:

Winning the London Rotary District Quiz Competition
Starting the campaign to build a Rotary Bandstand in the town
Promoting interest to engage the club in operating an evening club
Celebrating the 75 anniversary of the club.
Introduced musical evenings to help build the membership of the club
Looking at building a 'Rotary Wishing Well' to collect for local charities
Attending the Rememberance Day Parade 2016
Further information about the Rotary Club of Elstree and Borehamwood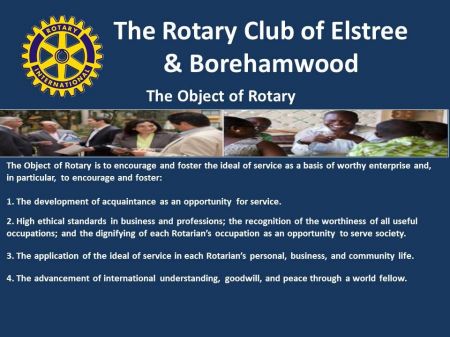 can be obtained from the Club Secretary
---



---
Last updated:- November 2017