Hertsmere Civic Awards 2018
Congratulations to Rotarians Fred Thomas & Andrew Grady who received the Annual Hertsmere Civic Awards on 24 March 2018 hosted by Cllr. Charles Goldstein, Hertsmere Borough Mayor for 2017-18.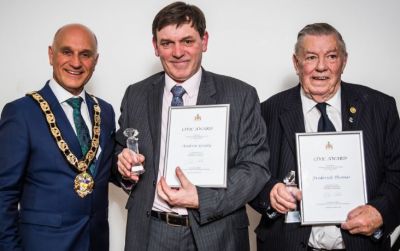 Fred Thomas joined Elstree & Borehamwood Rotary Club in 1964. He has been president of the club twice (1984-85) and has recently received a long service award.

Fred has been living in Radlett for over 58 years.

He is extremely involved with the Citizen's Advice Bureau (CAB) where he is a Trustee on the board, being on the Finance and General Purpose's committee for many years. Fred also concentrates his time on Health and Safety matters for the CAB visiting all the offices to ensure all the health and safety policies are met.

Fred is also well known within the town for being the owner of 'Boreham Wood Ironmongers' on Shenley Road.

He has been a Hertsmere Borough Councillor, and involved with the local Chamber of Trade.





Andrew Grady is originally from Yorkshire but has been living locally for over 25 years.

He is currently the secretary of Borehamwood Brass Band, and is also involved with different musical groups and organisations throughout the county.

Andrew performs as a soloist for major town functions. For the last few years, he has played the last Post & Reveille on Remembrance Sunday.

Andrew is involved with the Borehamwood & Elstree Twin Town Association, which organise visits to and from both of Elstree & Borehamwood's twin towns, Fontenay aux Roses near Paris, and Offenburg, in South West Germany.

He championed the idea of a bandstand for the town. This idea was taken up by the club while he continues to collaborate with Hertsmere Borough Council.

He also offers technical support for audio systems and presentations for events organised within Borehamwood.